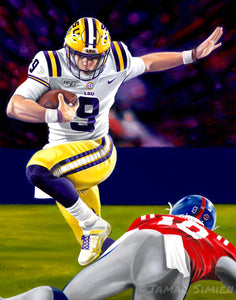 FREE SHIPPING WITHIN THE U.S.
Collect this one of a kind version of "The Best Ever" oil painting! The artwork comes with a 1/2 inch white border, which is ideal for framing. Printed on high quality heavyweight matte paper and signed on the back by the artist, this piece of art will complete any LSU themed office or man cave!
"The Best Ever" Oil Painting:
Born and raised in Lake Charles, Louisiana, art has always been a cornerstone in my life. Art is my gift, my safe place, and my most effective means of communication. From being ranked as the top high school art student in Louisiana in 2001, to traveling the world for the past 20 years studying art from different cultures- I can never forget my home.
As an LSU alum from the class of 2007 and a diehard Tiger football fan, it was absolutely necessary to paint our most iconic player doing the most iconic move in sports- the Heisman pose. Only one month after playing in the game versus Ole Miss, Joe Burrow won the Heisman Trophy by the largest margin of victory in the history of the award.
The pencil sketch for the Joe Burrow oil painting started in April of 2020 during quarantine. I set out to make this painting the very best that I've ever created. I wanted it to be unforgettable, just like our undefeated season. Over 200 hours of studio time and 15 months later, this is my masterpiece. My goal is to use this painting to create a full circle impact. The painting celebrates the greatest season in college football history, but more importantly- it gives back to my home.
This is a Limited Edition run. Only 1,000 prints will be made in this collection. Each print will be printed on heavy duty acid free watercolor paper that features a one inch white border for framing. Each print will be signed and numbered by the artist. All prints are made individually and are shipped directly from the artist. Free shipping on all orders in the United States.
Art with a Purpose:
Being a native of South Louisiana, it has always been important for me to make a full circle impact in my home state through my gift in art. Because of this, I have created an art scholarship called "The Bobbie Moon Art Scholarship" honoring the legacy of my favorite teacher, artist and life long LSU football fan, Mrs. Bobbie Moon.
As a former art teacher of 10 years, I understand that kids don't care how much you know until they know how much you care. Mrs. Moon was creative, compassionate and extremely giving. She also loved to paint with watercolors in her spare time. Through countless creative school and community service projects, she taught me how to think BIG. She changed the trajectory of my life. The entire Moon family cried as I explained why and how I will honor her legacy. I received their blessing at the end of that phone call.
I am collaborating with the Moon family to provide an art scholarship that will give a young artist from my hometown a chance to pursue their dream in college. The art scholarship is available to all Southwest Louisiana high school seniors, born in the state, pursuing an art related degree within the state of Louisiana. It will be an annual scholarship with the Moon family serving on the selection committee. All funds for the scholarships come directly from portions of proceeds from "The Best Ever" original oil painting and Limited Edition prints through auctions, raffles and online print sales. 
I am also partnering with the United Way of Southwest Louisiana to help with hurricane relief. Portions of the proceeds from "The Best Ever" painting will be donated to the United Way that supports my hometown of Lake Charles and the surrounding area. 
Forever LSU. Forever Louisiana.

-Jamar Simien
(Reference photo credit: Thomas Graning/AP)