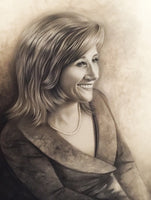 Painting for the Governor of Louisiana
In March of 2017, Jamar Simien had an opportunity to meet Governor John Bel Edwards in Baton Rouge, Louisiana. Simien has always felt that his most effective way to communicate his gratitude is to share his gift in art. As a gift to the Governor and his wife, Jamar painted a beautiful portrait of The First Lady that currently hangs in the Governor's mansion in Baton Rouge.
LIFE IN COLOR
16"x20" original oil painting
We're not so different. In fact, we want the same things. They shared their stories. I shared my own. We all want to learn, love and create a legacy that will last forever.
GOOD COMPANY
30"x40" original oil painting
I removed the black for the dark shadows and used blue instead. I removed brown for the skin and used red. While I was in Africa, we went to different villages to buy fresh fruit and vegetables. Tons of kids with food would run up to the car. We'd then negotiate prices with the kids, who would take the money back to the adults in the village. There was a real human connection while this was happening. They're people just like us, who pretty much want the same things. So I used different colors to show the power of color. When you change the color of things that you think you understand, it can change the narrative.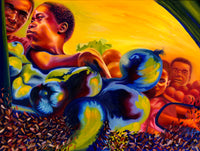 Testimonials
Jamar Simien is a national treasure! He is a former student that I encouraged to walk boldly into the direction of his dreams of being an artist. And he has. Jamar's work is like peaking into his diary.

He tells the mysterious, mythical, and most interesting narrative of his native gulf south region. He works with a great understanding and passion and focuses on what excites and what intrigues him. His commissions are something very special. His portrait of my younger brother is exquisite.

It was commissioned as a gift for my parents. They absolutely adore it. His work reminds me everyday of our rich cultural heritage and illuminates the interconnectedness of the colorful people, landscapes, animals, music, food, architecture, and all that is the allure of the meaning of our sacred home!

For the art connoisseur and casual collector, I encourage you to strongly consider purchasing a Jamar Simien piece or have him complete a commission for you. I assure you, you will be delighted that you made the decision to purchase his work. For he is, a national treasure.

Dr. Katrice Albert
Jamar is an immensely talented artist with a very humble spirit. I wanted something very special to mark the launch of my husband's new business venture. I wanted to surprise him with something meaningful and Jamar truly delivered. I commissioned Jamar after being referred by a great friend and viewing some of his other work online and was already impressed.

I was able to communicate my desires and expectations for the project. Jamar listened, was patient and very responsive to what I wanted but definitely added his special artist's vision to the creation. He gave me a clear idea of the time and cost involved and truly exceeded my expectations. Most importantly, my husband was thrilled with the final work and we have a wonderful conversation piece for all of our new customers and patrons.

I will continue to refer him to others and have plans for future creations.

Judith Smalls
Jamar has kindly donated a watercolor of an egret to be displayed at Houston Audubon's Sims Bayou Urban Nature Center. When students visit the nature center for field trips they not only learn about birds and bird conservation, they also learn about John James Audubon and his artistic legacy. All students have an opportunity to create a watercolor inspired by the birds that can be seen at the nature center. Mr. Simien's art will inspire many young people and we are truly grateful for his donation.

Mary Anne Weber